#Dessert Kinder Delight Express Recipe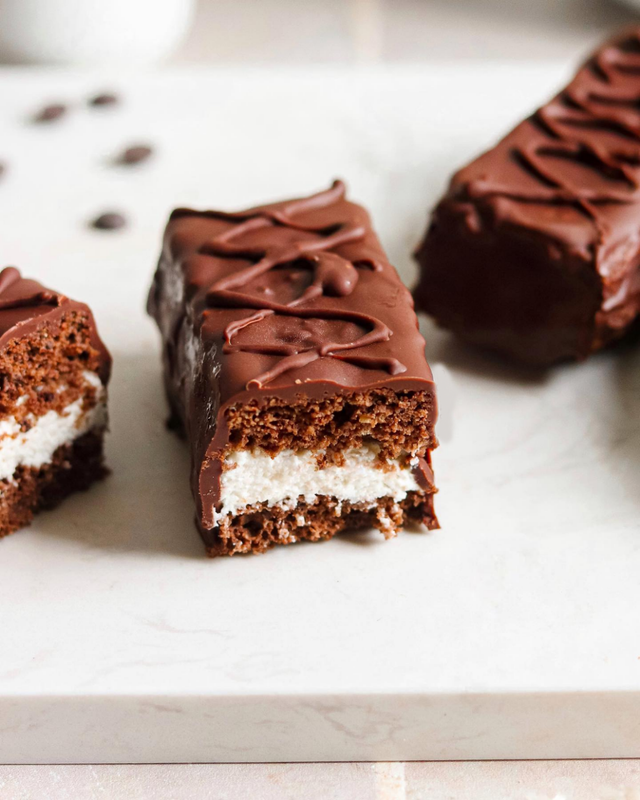 The cupcakes that definitely take me back to childhood: between the softness of the chocolate cake, the coconut filling, and this chocolate coating In short, a very gourmet cocktail that I suggest you revisit in an express version.
Ingredients Cake:
50g of flour (here oats)

15g cocoa

80g of compote

1 egg

1 tsp maple syrup

3g baking powder
Ingredients Filling Coconut:
150g skyr

15g coconut flour

10g maple syrup
Ingredients Topping:
100g chocolate chips

1/2 tsp coconut oil
Instructions:
Prepare the filling: mix the ingredients and set aside.

For the cake: mix all the ingredients. Pour the batter into a glass dish.

Cook for 5 minutes in the microwave.

Leave to cool before unmolding.

Two options: 1. Either you can directly cut the cake into 8 equal parts. 2. Either your cake is thick and you can cut it in half in its height then in 4.

Spread filling on 4 slices of cake. Close with another piece of cake.

Optional: Freeze the cakes for 30 min (it will be easier to coat them with chocolate).

Coat the chocolate bars and it's ready!