Easy And Delicious Crispy Chicken Tacos Recipe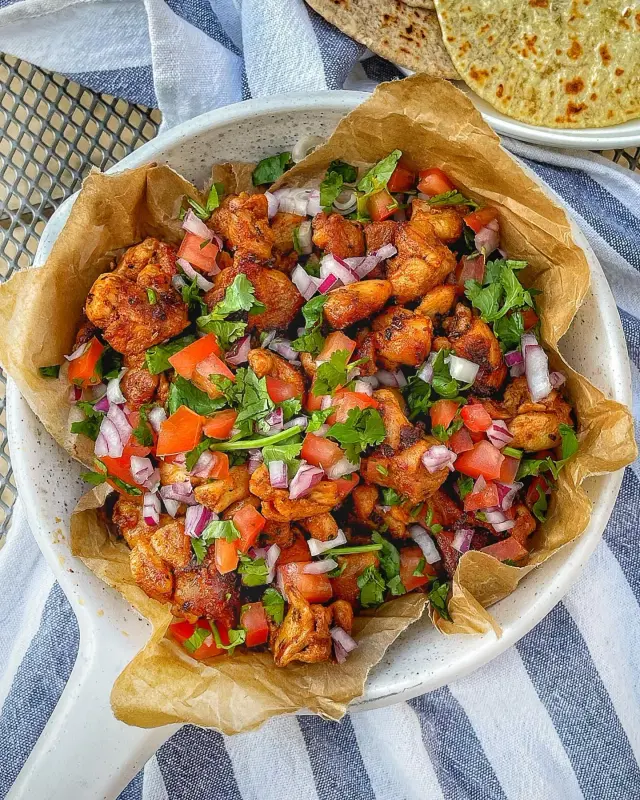 This is such a tasty and easy recipe. We could've honestly eating a million of them! For the tortillas we used the mini piadinas. The white worked better than whole-wheat so I would keep that in mind if you're getting them.
Ingredients:
450g diced chicken thigh

1 tsp smoked paprika

1 tsp cumin

1/2 tsp chilli powder

1 tsp oregano

1 tsp salt

1 tsp lime juice

Vegetable oil

8 mini tortillas or mini piadinas (optional)
Garnish:
1/2 beef tomato

1/2 red onion

Handful of fresh coriander

Lime juice

Salt
How to Make Delicious Crispy Chicken Tacos:
Start by making the garnish.

Discard the pulp of the tomato as you only want the outside. Slice the tomato and red onion into small cubes and cut the coriander finely. Mix with a little lime juice and salt and set aside.

Mix all the spices together with a tsp of oil and the lime juice so it makes a paste.

Then mix the paste onto the chicken thighs.

Leave the diced chicken thigh for as long as you can so the flavours marinate.

When you're ready to cook, add some oil to a large pan and turn on a high heat.

Let the pan get hot and add the chicken.

Stir it so it doesn't stick but you want the chicken to get nice and crispy on the outside.

Cook for about 8 - 10 minutes. You want the chicken to still be juicy but fully cooked. So check one piece inside and cook for longer if necessary.

When the chicken is cooked, tip onto a plate with some kitchen towel so it absorbs any excess moisture.

Heat up the tortillas in a frying pan by cooking for a minute both sides on a high heat.

Garnish the chicken with the tomato, onion and coriander mixture. Serve with the tortillas.