Easy and Tasty Waffle Fish Pie (NEW)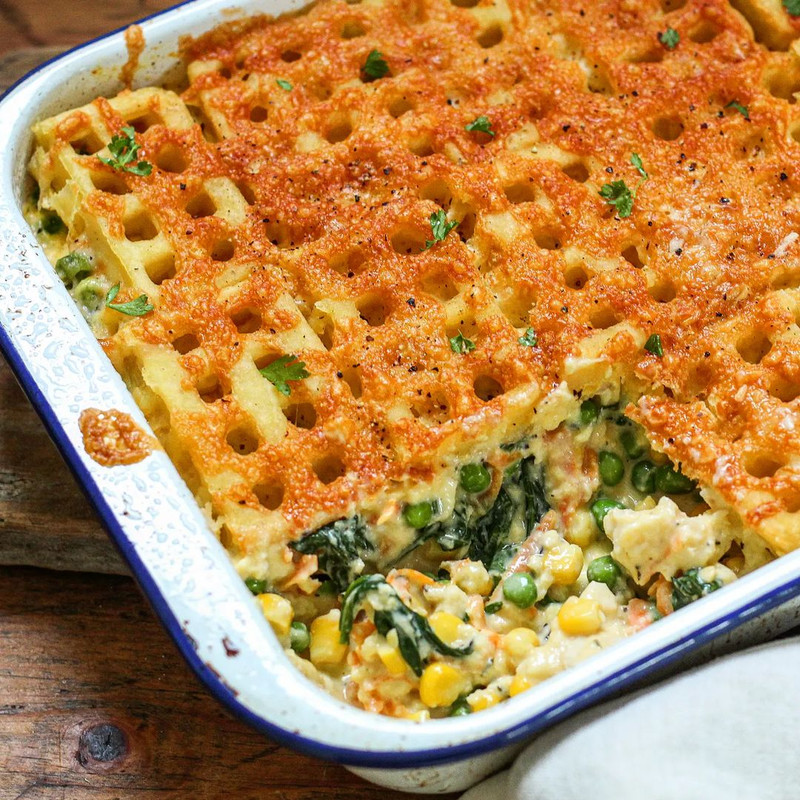 Maybe all people will like this waffle fish pie because different feel!. To make it, i'm just need 20 minute all-in-one version, topped with frozen potato waffles! You have to give this a try it's so quick to make, a great throw together dinner AND it tastes amazing! This is one that I'm going to make again and again this autumn. I've written up the recipe below - let me know if you'll be trying this one! I has been write this recipe at facebook.
Ingredients:
9 frozen potato waffles

25g butter

25g flour

350ml milk

150g mature cheddar spread

4 boneless, skinless basa fillets (you can use cod if you prefer)

170g frozen peas

170g frozen sweetcorn

1 carrot, peeled and coarsely grated

80g fresh spinach leaves

1 tsp dried Thyme (you can use mixed herbs or oregano)

A handful of grated cheddar cheese
How to Make Waffle Fish Pie:
Heat the grill to medium/high.

Place the potato waffles on a tray and place them under the grill.

Grill on one side until golden brown. This should take around 5-7 minutes.

Place the butter in a large non-stick saucepan on a medium heat. When melted, stir in the flour until it starts to bubble.

Slowly add the milk a little at a time, stirring continuously.

Each time it comes to the boil, add more milk.

When all of the milk is used, stir in the mature cheddar spread until you have a smooth sauce. Season with salt and pepper.

Stir in the pieces of fish, frozen peas, frozen sweetcorn, grated carrot, spinach and dried thyme.

Gently bring to the boil. Simmer for 5 minutes, stirring regularly, until the fish is cooked through and the veg is tender.

Pour the filling into an oven proof dish, roughly 28cm x 23cm.

Remove the waffles from under the grill. Cut them in half widthways.

Cover the filling with the waffles, placing them cooked side down.

Sprinkle with grated cheddar cheese and place the dish back under the grill.

Grill for 5-7 minutes, until the cheese has melted and the top of the waffles are cooked.

Serve immediately with salad or veg.