Simple Lazy Chicke Kiev Crispy, No Roast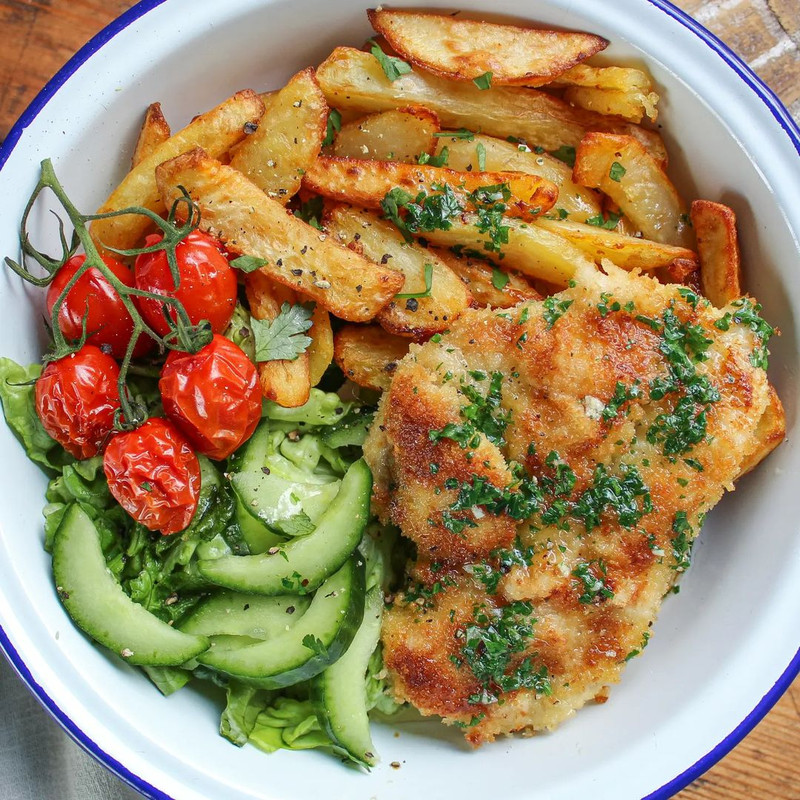 Lazy Chicken Kiev No roast for us today. instead, I made one of our favourites! This has all the flavours of chicken Kiev with none of the faff! Chicken in crispy panko breadcrumbs, with a garlic and parsley butter poured over the top. It's SO simple to make and tastes just like real thing.We usually have it with airfry chips and salad, but new potatoes works too.Are you going to try it?
Ingredients:
3 large chicken breasts

A handful of flour

1 large egg beaten

70g panko breadcrumbs

Oil for frying

100g butter

2 cloves garlic finely chopped

A handful of flat leaf parsley finely chopped

Salt and pepper
How to Make Perfect Chicken Kiev:
Cut the chicken breasts in half lengthways.

Place the flour, beaten egg and breadcrumbs in separate bowls.

Place one of the chicken breasts in the flour, turning it over until coated.

Dip the chicken in the beaten egg and then roll it in the breadcrumbs until coated.

Set aside and repeat for the remaining chicken.

Heat a good glug of oil in a large non-stick pan. When it is spitting hot, add the chicken.

Fry for 3-4 minutes each side until all the chicken is cooked through (time will depend on how thick your chicken is) Whilst the chicken is frying, make the garlic butter.

Place the butter in a small pan and add the garlic. Melt on a medium heat and bring to the boil, letting it bubble for one minute.

Stir in the parsley and season with salt and pepper.

Once you have served the chicken steaks, drizzle a little garlic butter over.

Serve immediately and enjoy it.