Bacon, Shallot & Gorgonzola Jacket Potato, New Recipe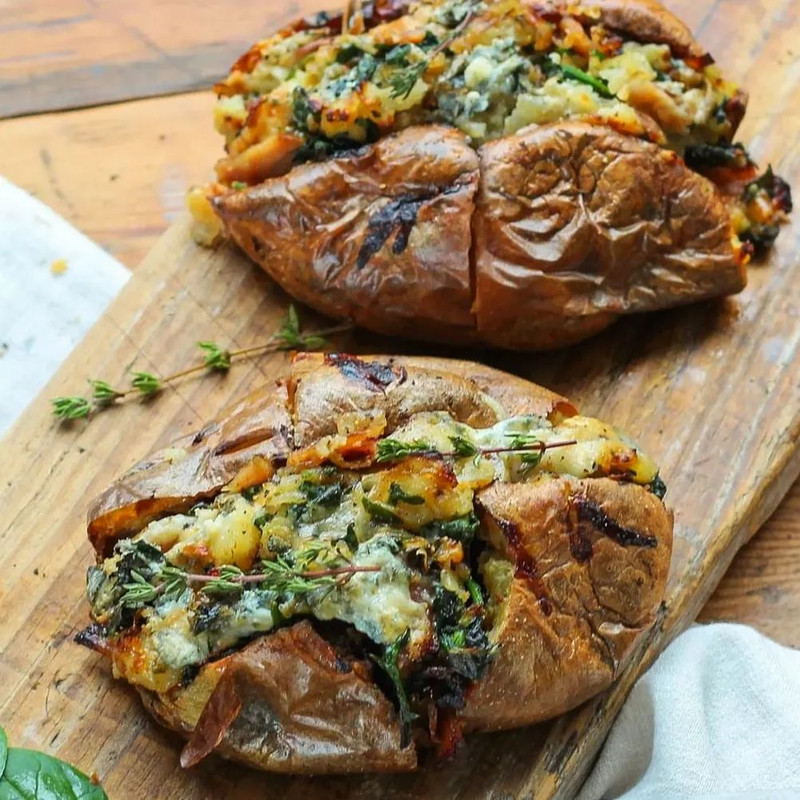 There is hardly a week that goes by where we don't have a Jacket potato dinner. I don't often deviate from cheese and beans, BUT this combo was so good. If you're not sure about gorgonzola you can use any blue cheese and swap the shallots for onion if you prefer. I've written up the recipe below. Let me know your favourite Jacket Potato filling in the comments! Makes 2 large Jacket potatoes.
Ingredients:
2 large baking potatoes

Olive oil for roasting

Salt and ground black pepper

5 rashers of smoked Bacon

2 small shallots finely chopped

50g fresh spinach roughly chopped

1/2 tsp fresh chopped Thyme leaves

50g gorgonzola cheese
How to Make Gorgonzola Jacket Potato:
Heat the oven to 200C

Pierce your potatoes with a narrow knife a few times, so that it goes right to the centre.

Drizzle them with a little olive oil and use your hands to ensure they're coated all over.

Sprinkle a little salt over them and bake in the oven for an hour or until they're crisp on the outside and soft in the middle.

Make the filling: Heat a drizzle of oil in a saucepan.

Add the bacon pieces and shallot.

Fry on a medium heat for 5 minutes or until the bacon is crispy and the shallots are soft.

Add the spinach and fresh Thyme and stir until the spinach has melted.

Season with salt and pepper and set aside.

When the potatoes are cooked, remove them from the oven. Open them up carefully.

Roughly spoon out most of the potato - don't worry if you can't get it all.

Add the potato to the bacon and shallots and roughly mix until evenly distributed.

Spoon the mixture back into the potatoes, don't press down.

Break the gorgonzola into cubes and place them on top. Gently fold the sides of the potato back in, to hold the filling inside (it doesn't matter if it doesn't close completely.)

Finish with a little black pepper.